With winter already in full swing and the cold weather settling in around us, you may find yourself planning to enjoy an off-season holiday to be spent with your loved ones in Bloubergstrand, a small suburb that is easily considered one of Cape Town's most spectacular holiday destinations at any time of year and regularly welcoming tourists and holiday guests.
Blouberg is a picturesque seaside town that lies on the stunning West Coast, popular for many reasons. Throughout the year surfers, kite-surfers and water sport enthusiasts spend their weekends and afternoons at the beach, where the ideal weather conditions allow for some of Cape Towns best waves to form. There are a number of exciting shopping malls in the area to keep everyone entertained and a few local markets that pop-up along the coast, attracting locals and tourists. Blouberg also offers a selection of casual or fine-ding restaurants that overlook the ocean, for a truly remarkable dinning experience.
Winter accommodation in Blouberg certainly has its perks and offers guests so many possibilities to create memorable holiday experiences. You and your family or friends can enjoy a self-catering vacation in Blouberg or one of the surrounding ocean-facing areas without having to worry about typical holiday crowds and long lines while you shop or explore. You can discover the best of the West Coast and more of Cape Town during winter all while spend less money, not only on your accommodation booking made with Blouberg Holiday Rentals but also at many popular restaurants and family-friendly attractions.
The Blouberg Holiday Rentals Winter Special: 
Our Blouberg Holiday Rentals Winter Specials is as follows: Book a holiday stay for 4 nights, and only pay for 3 nights. Or book a 7 night stay and only pay for 5 nights! This gives you more time to explore Cape Town and Blouberg while you are on holiday, all the while costing you less. Visit our website, www.bloubergholidayrentals.co.za to view our complete range of winter specials and find the perfect self-catering accommodation for you.
Some of our Holiday Apartments:
GRAND BAY 28, BLOUBERGSTRAND –  Enjoy a luxurious stay in this beautiful 3 bedroom (6 sleeper) holiday apartment that is located only 600 meters from the beach-front and perfect for a winter vacation. With a modern open-plan design that makes entertaining easy and a large balcony that offers amazing sunset views as well as free Wi-Fi access and DStv bouquet, you can experience a fantastic time. At only R1800 per night, this will cost a group of 6 adults R300 each per night. Click here for more info, or to book now.
---
EDEN ON THE BAY 211, BLOUBERGSTRAND – A modern and luxury 2 bedroom (4 sleeper) self-catering holiday apartment that is unique and sophisticated, this accommodation offering plenty of natural light and is perfect for entertaining visitors. This holiday apartment provides some truly breathtaking ocean views, while being only a short walk away from the beach and the entertaining Eden on the Bay Promenade which provides guests with world of excitement. BBQ facilities, Free Wi-Fi and DStv bouquet also included.  At only R1500 per night, this will cost 4 adults only R375 each, per night.Click here for more info, or to book now. 
---
LEISURE BAY 207, MILNERTON – Escape with your significant other to this gorgeous 1 bedroom (2 sleeper) holiday apartment that is situated right by the sea, where you can fall asleep to the sound of waves crashing in the distance and wake up with the fresh ocean air all around you. Two people can spend a romantic 3 night stay here this winter from only R1900, altogether. Free Wi-Fi and a DSTV bouquet included.  Enjoy amazing ocean views and watch the sunset over Table Mountain, which is a truly unforgettable experience. Click here for more info, or to book now.
---
LEISURE BAY 229, MILNERTON – This lovely 1 bedroom self-catering holiday apartment displays breathtaking views of the vast oceanfront and the magnificent Table Mountain. You could enjoy a much needed winter vacation with your significant other without spending a fortune, and explore an array of attractions in the area during your vacation. With so much to do in the area and Wi-Fi and DStv included, you will want for nothing on your stay.  From only R950 per night, spend 3 evenings here and only pay R950 each, between two people. Click here for more info, or to book now. 
---
PORTOFINO II4, CENTURY CITY – This stylish and fully equipped 3 bedroom (6 sleeper) holiday apartment is situated in the lively Century City lifestyle area of Cape Town, overlooking the serene canal below and also the glittering lights from the nearby Canal Walk shopping centre, a favourite amongst locals. With access to the complex gym and a heated pool for your enjoyment, as well as free Wi-Fi and DStv bouquet, you can be sure that you will have an amazing winter holiday here. Enjoy all of this for only R260 per person, per night or R1600 per night in total. Click here for more info, or to book now. 
---
DOLPHIN RIDGE 20C, BLOUBERGSTRAND– This delightful 2 bedroom (6 sleeper) rustic styled  holiday apartment offers guests spectacular views of Table Mountain and the dazzling Atlantic Ocean. Beautifully decorated in light and natural shades as well as being close to a variety of attractions, you can be sure that there will be so much to keep you on your toes during your stay. Free Wi-Fi, DStv and even a large balcony for BBQ's can be enjoyed here. Between a group of 4 people, accommodation will cost only R250 per night, per person. Click here for more details, or to book now.
---
WITSAND VIEWS, BLOUBERGSTRAND – Situated right across the Atlantic Ocean with the most dreamy views and luxurious touches, this penthouse apartment offers an amazing self catering experience to a group of friends who want to indulge while on vacation. With 3 stunning bedrooms, this 6 sleeper apartment includes a jacuzzi, fireplace and full spa shower and sauna, as well as free Wi-Fi and a DStv Bouquet.  A selection of restaurants and attractions are only a few minutes away. At only R5100 per night, a group of friends can enjoy 3 nights here for only R1700 each. Click here for more info, or to book now.
---
DIE BAD 12, MELKBOSSTRAND – Perfect for a family holiday in Winter that is just a bit further up the West coast in the quieter area of Melkbosstrand, this modern and spacious 3 bedroom holiday home can comfortably sleep 6 people. Enjoy the large garden and distant ocean views, 2 lovely lounges with DStv bouquets, a large outdoor BBQ area and free Wi-Fi. There is even a cosy fireplace to be appreciated while inside on cold days. At only 2000 per nights, 6 people can easily spend only R1665 each and stay for 7 nights. Click here for more info, or to book now.
---
NAUTICA PENTHOUSE 701, BLOUBERGSTRAND – This gorgeous 5 sleeper, 3 bedroom holiday apartment displays ocean views that will leave you in awe and boasts a large wrap-around balcony where you can dine in style as the sun sets over Table Mountain in the background.  With Free Wi-Fi and DStv to be enjoyed, as well as plenty of space to entertain and relax indoors, you will experience an amazing time here for your winter escape to the sea.  From only R1900 per night, you can spend as little as R380 each, per night. Click here for more info, or to book more.
---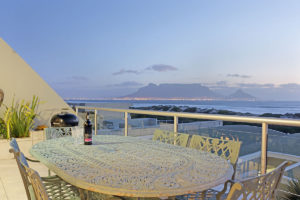 DOLPHIN BEACH H106, BLOUBERGSTRAND-  Boasting views of the ocean and glittering city lights beneath Table Mountain, expect your vacation stay in this 3 bedroom (6 sleeper) holiday apartment to be one of pure bliss. With a stunning lounge and dining area, modern kitchen and beautiful, spacious bedrooms as well as a large balcony with place to enjoy a braai and even free Wi-Fi and a DStv bouquet, every luxury is afforded to ensure you have an amazing experience. From only R1500 per night, a winter holiday can be enjoyed here by everyone. Click here for more info, or to book now.
---
The properties featured here are just a small selection of some of the wonderful self-catering holiday homes and holiday apartments you can choose from, that form part of Blouberg Holiday Rentals Winter Specials for 2017. All of our properties are professionally cared for, to ensure that you can enjoy all the luxuries of the perfect holiday accommodation when you visit Blouberg and surrounding areas for a family holiday, or a trip with friends. For our full selection of Winter Specials, visit: www.bloubergholidayrentals.co.za, or email one of our friendly sales ladies to find the best accommodation for you, on book@bloubergholidayrentals.co.za.