Easter is the time of year when families come together and friends reconnect, and there is no shortage of public holidays to use your advantage when starting to plan your trip to Blouberg or Milnerton. Those who have experienced this exquisite Western Cape coastal destination for a dream vacation will tell you that Bloubergstrand is the place to be, rain or shine, day or night, for a truly memorable and exciting experience. Enjoy your Easter holiday accommodation in a self-catering holiday apartment, family holiday home or luxury villa managed by Blouberg Holiday Rentals. 
Captivating visions of Table Mountain and the flickering Mother City lights beneath it can be admired from both Blouberg and Milnerton beachfront, as well as from many of Blouberg Holiday Rental's self catering accommodation units in both these suburbs. The Atlantic Ocean stretches on toward the West Coast, a beautiful drive along the coast, with wildflowers blooming and unique stops along the way. Not sure where to enjoy an Easter feast? Table Bay Mall is home to an array of restaurants, with a cuisine to suit any taste, while some of the most popular restaurants include the Blue Peter restaurant and, for something a bit more stylish, Blowfish restaurant.
Milnerton is a neighboring suburb of Bloubergstrand that is located a short 15 minute drive from the Mother City of Cape Town, also displaying the most incredible ocean and mountain views. Canal Walk Shopping Centre and GrandWest Casino are both popular attractions to enjoy in the area, while Milnerton's striking lagoon and beach, where a choice of restaurants are located, can also be enjoyed by families with kids throughout the year.
Biccard Views, Bloubergstrand
This exquisite coastal villa is ideal for larger groups of friends or family seeking out holiday accommodation. The combination of modern furniture, open spaces and natural colour tones add to the guest experience as they enjoy the contemporary seaside lifestyle that is synonymous with Bloubergstrand.  Complete with 5 stunning bedrooms, up to 10 guests can enjoy a range of upmarket facilities that are offered in Biccard Views. Apart from showcasing amazing views of Table Mountain and the ocean, this remarkable self-catering villa consists of various living areas, a private outdoor entertainment area and a dining set-up complete and large built-in braai, as well as a fully-equipped kitchen complete with a gas stove and a dishwasher, that is perfectly suited to guests who love cooking. Additional features of this accommodation include complimentary Wi-Fi and DStv connection, secure parking and an indoor fireplace.  For more information on Biccard Views in Blouberg, click here.
---
Chandos on Lake, Milnerton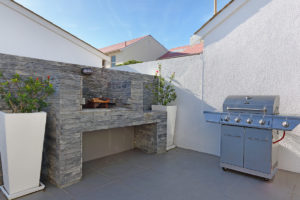 Milnerton has become a popular destination choice for modern day travellers adventuring through Cape Town, thanks to its convenient location just 15 minutes from the Mother City. This inviting holiday accommodation boasts spacious indoor and outdoor living areas for visitors to enjoy with their loved ones. Chandos on Lake is a cosmopolitan and spacious 3 bedroom (6 sleeper) holiday home that is located in a secure complex on the enviable Leisure Island, just a 5 minute walk from Milnerton's main beachfront and a selection of eateries. An outstanding feature of this self-catering home is its stunning setting along the lake that divides this small island from the busier suburb of Milnerton. Views of the lake and neighborhood can be admired from both the main bedroom and wide open living areas. The lounge also opens up onto a small and protected courtyard area, ideal for relaxing with a cup of coffee.  The main bedroom is en-suite, with a second bathroom that can be shared by the other occupants of this self-catering home. A private and expansive outdoor entertainment area can be enjoyed on warmer days. For more information on Chandos on Lake in Milnerton, click here.
---
Eden on the Bay 202, Bloubergstrand
There is no place in Blouberg quiet like Eden on the Bay, especially for guests that want to enjoy the simplicity of the beachfront and a myriad of attractions that are located within walking distance. Big Bay beach, just a short walk away, is a favourite among surfers and kitesurfers. This 2 bedroom apartment displays ocean and Table Mountain views, with Robben Island visible from across the bright blue ocean waters. Perfect for a small family or group of friends booking a memorable Easter stay, Eden on the Bay 202 consists of roomy and bright living areas, a stylish fully-equipped kitchen and bedrooms that have a blue and white maritime decor scheme reminiscent of the ocean. The main bedroom is en-suite, with a queen size bed that is perfect for a couple to enjoy together. Guests can share holiday memories by connecting to the complimentary Wi-Fi, and can also unwind after a day of fun by choosing a movie from the DStv selection. For more information on Eden on the Bay 202 in Bloubergstrand, click here.
---
Horizon Bay 103, Bloubergstrand
Located along the alluring beachfront of one of Cape Town's most popular holiday destinations, Horizon Bay 103 is a chic 2 bedroom apartment, boasting open spaces that connect the inside with the outside. A large patio area with views of the ocean and Table Mountain keep guests amazed by the sheer beauty of Bloubergstrand, which can be admired from a private setting with no shortage of space. Both bedrooms are furnished with double beds, set in warm shades of beige and cream to provide a relaxed ambiance for guests during their vacation. The lounge is open plan in design, with a stylish L-shaped leather couch facing a flat screen TV. For a traditional experience, enjoy a braai with your loved ones and admire the sun setting over the oceanfront, which proves to be a mesmerising sight at any time of year. Additional facilities include DStv and Wi-Fi connection, secure parking and a communal swimming pool for everyone to enjoy. For more information on Horizon Bay 103 in Bloubergstrand. click here. 
---
Ocean Mist 101, Bloubergstrand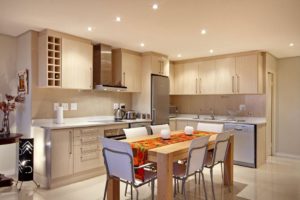 Up to 4 guests can book Easter accommodation in this welcoming and beautifully furnished 2 bedroom apartment, with dark and light wooden accents and bright splashes of colour. Besides views of the Atlantic Ocean being visible from the living areas and balcony, another outstanding feature of this apartment is the gas fireplace, perfectly placed in the lounge under the wall mounted flat screen TV, between two large windows that perfectly frame views of the beachfront. The open plan kitchen is equipped with all the essentials, as well as a dishwasher and washing machine for added convenience. Both bedrooms are luxurious and en-suite, opening up onto the balcony, so that guests can fall asleep to the sound of waves crashing and wake up to enjoy a fresh cup of coffee on the balcony. Features available to guests during their stay include complimentary Wi-Fi and DStv connection, BBQ facilities and close proximity to the Bloubergstrand Beach and an array of restaurants. For more information on Ocean Mist 101 in Bloubergstrand, click here. 
---
Lagoon Beach 231, Milnerton
The magical beachfront setting of Lagoon Beach 231 ensures privacy and tranquility for guests and boasts a decor scheme that is contemporary, playful and fresh. The living areas comprise of a lounge, dining room and kitchen, while the balcony showcases ocean views for guests to enjoy over a meal or sundowner. Both the main bedroom and second bedroom are furnished with queen sized beds, while the decor scheme embraces lovely pastel colours, soft lighting and floral elements. The fully-equipped kitchen allows guests to entertain over a delicious homemade meal, followed by minimal cleaning up thanks to a dishwasher. The Lagoon Beach complex is very popular among visiting families, situated a short stroll from the beach and an exciting choice of eateries and places to explore. Close by, The Paddocks Shopping Centre offers a host of fun things-to-do, while the vibrant and popular City Centre of Cape Town is only a short 15 minute drive away. For more information on Lagoon Beach 231 in Milnerton, click here.