With something for everyone, Century City has fast become an incredibly alluring destination for holiday goers visiting Cape Town, as well business representatives and even travellers seeking out every bit of life's most luxurious settings. While Century City is undoubtedly a place of luxury and style, it is far more than just that. Naturally enchanting elements such as surrounding lagoons and wetlands and Table Mountain in the background, as well as close proximity to the city centre and a few highly regarded beaches are all attributes that add to Century City's appeal.
A number of divine restaurants can be discovered in Century City, with a variation of cuisines on offer and something for every occasion. Century City also offers visitors and locals who are lucky enough to call it home plenty to see and do at any time of year, with exciting attractions for all ages.
Where to dine in Century City:
Tigers Milk – Known among locals for its awesome "dude food" and chilled out, "kick up your feet and have a beer" vibes, Tigers Milk Kitchen/Bar is an edgy restaurant situated at the outside restaurant area of Canal Walk Shopping Centre. Tigers Milk is casual enough for a quick lunch or catch up cocktail and smart enough for celebrating a special occasion with your friends. The real winner at Tigers Milk is the menu, consisting of gourmet pizza's with no shortage of toppings and great flavour as well as burgers that are all finely crafted and have the most interesting names, like "Tree Hugger", "Rockstar" and "Triple Bypass" (just use your imagination). A selection of beers are available on tap, while a great variety of classic beers can be enjoyed by the bottle.
Brick Lane Eatery – Venture a little further along while enjoying time in Century City, where you will find Brick Lane Eatery in Park Lane's The Quays. With a funky, rustic theme, wooden tables and exposed brick walls guests feel right and home, that is until the food arrives and a taste explosion takes over. From the highest grade burgers to some flavourful tapas and superb early morning breakfasts, Brick Lane Eatery is a fantastic spot well worth a short walk along the serene canals. Feeling lazy but still want to indulge in such scrumptious sounding dishes? Brick Lane Eatery delivers to anywhere in Century City, only one quick phone call away. Craft beers and great wines also form part of the menu at Brick Lane Eatery.
Knife Restaurant – Looking for somewhere to dine that is a little more snazzy and sophisticated in the Century City area of Cape Town? Knife is a smokehouse style restaurant that has dazzled many diners with its elegance throughout the years. Knife restaurant is all about signature smoked meat, perfectly prepared and presented every time. A stylish custom bar allows for laid-back drinks (happy hour is celebrated daily, from 5 pm to 7 pm) with a TV for sports watching. Embark on a romantic dinner for two or bring the whole family along, but be sure to arrive hungry and expect to be blown away. The ambiance at Knife is a mixture of cosy and cosmopolitan, perfectly suited to everyone's taste.
Coffee Shops in Century City:
Cafe Magnifico – Shopping in Canal Walk, while certainly engaging and fun, can also be tiring. Even professional shoppers need a moment's rest to merely catch their breath before taking to the shops once more. Cafe Magnifico is a great spot to enjoy a fresh cup of coffee while on the run (order the "mammoth coffee" if you need an extra dose), also serving a selection of ice creams, desserts and light meals for everyone to enjoy.
Limnos Bakers – The definition of "decadent excellence, pure indulgence", Limnos Bakers is a lovely bakery and coffee shop in Canal Walk Shopping Centre, with its windows displaying delicious treats like macaroons, cake, tarts and the like, while the main menu offers light meals too. Coffee, hot chocolate or tea are among the warm drinks guests can sip on at Limnos, as they enjoy the cheery and charming ambiance of this little bakery.
Attractions in Century City:
Canal Walk Shopping Mall – This gorgeous and palatial styled shopping mall is something of an institution in Cape Town, an expansive mall that is packed with local and international brands, a number of restaurants from casual and cosy to fine dining and fabulous – there is even a bustling food court, with a huge screen suspended over it for sport watching. Canal Walk Shopping Centre is home to over 400 speciality stores, 17 recently renovated Nu Metro Cinemas and a seemingly never-ending display of retail outlets to enjoy, making shopping here a blissful activity. From some of the best fashion and footwear, arts and crafts and sport and activity based stores and so much more, it is not hard to see why Canal Walk has earned its reputation as a luxury mall, surrounded by gorgeous lagoons, palm trees and lovely fountains.
Century Karting – Go "off the grid" and test out your speed and racing skills at the Century Karting go-karting racetrack, located in the parking lot of the Canal Walk Shopping Centre. This fast and professionally constructed high quality track is both safe and exiting, where all races are monitored and your laps are timed electronically – you can choose how fast (or how slow) your pace is, while after a few practice laps you will quickly find that more fast means more fun. This activity can be enjoyed by ladies and gents of all ages, as long as your height is above 1.5m and you are willing to get your blood pumping a little.
Intaka Island – Get up close with some of Century City's naturally beautiful assets – a visit to the Intaka Island Bird Sanctuary and Wetlands is a great way to spend a summer day out with the family, surrounded by nature. This 16 hectare oasis in the heart of Century City is home to 7 wet and dry habitats and over 125 species of birds, as well as 170 various plant species. Visitors can explore the natural splendour of Intaka Island through a self guided tour or even a guided tour (call ahead to arrange a tour guide) through the reserve trails, with a shorter trail that is pram and wheelchair friendly. Discover 9 info stations to guide and inform, an eco centre to educate kids about the wetlands as well as a Century City ferry ride through the Grand Canal.
There are so many more activities and restaurants to enjoy throughout the Century City area of Cape Town, before mentioning the fact that the nearest beach is located at the popular and historical Milnerton Lighthouse, which is only a 10 minute drive away. Visitors to Milnerton beach can expect awesome surfing conditions, pet friendly cafes and restaurants, as well as stunning views of Table Mountain.
Accommodation in Century City:
Matrix 410, Century City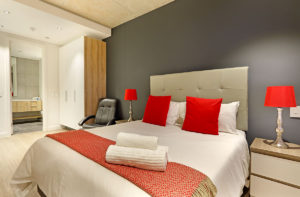 A contemporary and eco-friendly self-catering apartment for up to 2 guests, this accommodation can be enjoyed by one person or even a couple seeking an exciting and romantic retreat, where a myriad of attractions and natural wonders await right outside their front door. This apartment showcases neutral decor and furnishing and bright pops of red decor throughout, a stylish and cosy living area with a flat screen TV and DStv connection and a fully equipped kitchen, as well as an en-suite bedroom. The complex enjoys 24 hour security, high speed Wi-Fi connection and stunning views of Table Mountain. For more information on Matrix 410, click here.
Portofino 114, Century City
Enjoy everything that makes Century City so amazing by staying in this 6 sleeper (3 bedroom) self-catering apartment, overlooking the tranquil lagoon of Canal Walk and located only a few minutes' walk away from the popular Canal Walk Shopping Centre. With a large balcony providing lovely views and perfect for a braai with friends or family, a modern and lavishly decorated living area that is open planned and airy and also DStv and Wi-Fi connection provided to guests. The Island Club complex offers guests use of the communal gym as well as the indoor and outdoor swimming pools.  For more information on Portofino 114, click here.
Manhattan Wharfside 305
For a luxurious vacation setting perfectly situated near all the excitement of Century City, this two story self-catering apartment is something special. With two stylish bedrooms, a balcony overlooking the Century City area and canal, a state of the art kitchen and place to dine and entertain inside and outside, guests are able to settle into accommodation that will tick off every box perfectly. The lounge boasts a fireplace as well as a flat screen TV with DStv access, while Wi-Fi can be enjoyed by all. The complex is under 24 hour security and guests can enjoy secure parking, all while being a short and blissful walk away from many attractions and restaurants nearby. For more information on Manhattan Wharfside 305, click here. 
Now that you have had a  "sneak peak" of Century City, it is time to plan and prepare for an exceptional holiday of luxury, leisure and excitement. For Blouberg Holiday Rentals' full selection of self-catering holiday apartments in Century City, click here.